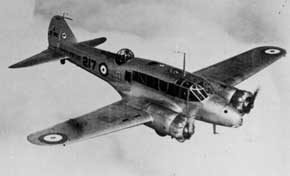 Avro Anson A4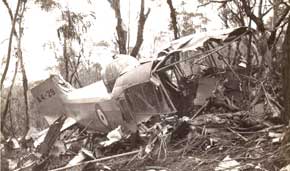 Wreckage of Avro Anson A4-29 at Arthurs Seat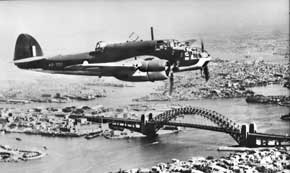 DAP built Bristol Beaufort A9 over Sydney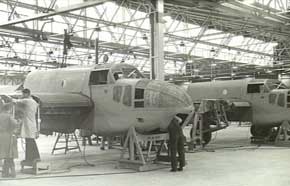 DAP Beaufort A9 assembly plant at Fishermans
Bend in Melbourne
Arthurs Seat has been the scene of two aircraft crashes over the years. There is a monument at the summit dedicated to the crews lost in the crashes of the 2 aircraft .
On the 10th August 1938 five RAAF Avro Anson A4 Aircraft from the No. 2 Squadron were undertaking navigational exercises. Due to worsening weather conditions the aircraft were recalled to Point Cook Air Force Base. At 9.45am while flying in low cloud over Arthurs Seat A4-64 crashed into the north western face of the hill. The front of the aircraft was completely demolished after ploughing through trees, but the tail and mid sections were reasonably left intact. Of the 5 crew members, the only survivor was the turret gunner, located in the rear section of the aircraft.
The second crash occurred in 1942.
At 7am on Sunday 12th July 1942, a Bristol Beaufort A9-64 flying in low cloud and mist just managed to clear the summit of Arthurs Seat, but crashed into the scrub land south of the lookout tower. All 4 crew members were killed.
The British built Bristol Beaufort A9 aircraft has an interesting history in Australia .
To help with the war effort during the Second World War, the Bristol Beaufort was built under license at the Department of Aircraft Production (DAP) Plant at Fisherman's Bend in Melbourne and at a new factory at Mascot in Sydney. To speed up the manufacturing process, drawings, jigs and tools plus parts for six complete airframes were supplied by Bristol in the UK. The remainder of the Australian-built Beauforts were made using locally available materials.
One of the main reasons the Beaufort was chosen by DAP was the ability to manufacture it in sections. A lot of the work was subcontracted to the railway workshops. The front fuselage, undercarriage and stern frames were built at the Chullora Railway Workshop in Sydney while the rear fuselage was built at the Newport Workshop in Melbourne .
The assembly of the sections was at Fisherman's Bend where women were employed to help with the war effort.
The first Australian-assembled Beaufort, A9-1 (using British components) was completed and had it's test flight on 5 May 1941 while the first A9-7, (using Australian components) came off the production line in August. 1941.
There were 700 Australian Beaufort's produced. Production ended in August 1944.