Fascinating Historic Facts
Mornington Peninsula Mornington Pier - Mornington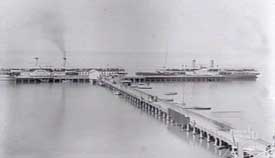 Paddle Steamers Hygeia and Ozone at
Mornington Pier
Photograph courtesy State Library Victoria
After a public meeting was held at the Tanti Hotel in 1854, a submission was sent to the Ports and Harbour Commission for the building of a pier and breakwater at Mornington. The submission coincided with a survey done by Mr R Adam's of the Railway Department which stated that a pier at Mornington would "give relief to the inhabitants by providing an outlet for their produce and a shelter for shipping during storms".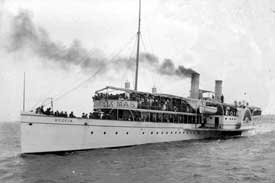 Hygeia under full steam on Port Philip Bay
Photograph courtesy State Library Victoria
The design included a 116 foot rock embankment to protect the pier from storms and possibly two breakwaters, one east and one west. The pier and breakwaters were completed in 1857 with further additions to the pier completed in 1861. A total of nearly £9000 was spent on building and extending the pier. Local businessman Benjamin Benton was engaged to supply and install the timber for the pylons of the pier.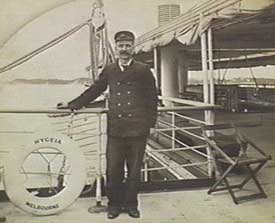 Crewman on the Hygeia
Photograph courtesy State Library Victoria
By pier was soon the shipping centre of the Mornington Peninsula with over 15 fishing boats permanently moored and ships arriving daily to bring supplies and pick up produce and firewood for shipping to Melbourne. Passenger ferries were arriving twice weekly from Melbourne stopping at Mornington and then continuing on to Sorrento.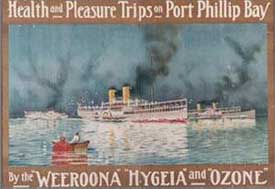 Poster promoting Health and Pleasure trips on
Port Philip Bay
By the early 1890's the railway had come to Mornington which provided a faster mode of transport for produce and fish. As a result the pier was used less for goods transportation but was still used for mooring fishing boats and the paddle steamer ferries from Melbourne.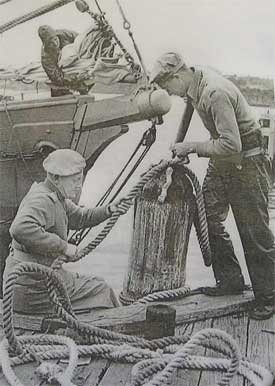 Men from the Third Australian Water Transport
Unit training at Mornington Pier early 1940's
Three paddle steamers were used to ferry passengers from Melbourne to the Mornington Peninsula in the late 1890's and early 1900's. They were Ozone, was built in Glasgow in 1886, Hygeia, built in 1890 and Weeroona built in 1910. These were very luxurious with dining rooms, entertainment, bars and even a hairdressing salon!
During World War 2, Mornington Pier became a training outstation for the Third Australian Water Transport Unit. The unit was officially based at Balcombe Camp at Mount Martha but the unit spent most of the time at Mornington.
The pier has undergone many changes in it's 150 years. It is still the base for some fishing trawlers but is now mainly used for pleasure craft and fishing.