To visit all the places on our sightseeing tour of the Northern Peninsula would take white some times, so if you don't have a great deal of time, you can just select a few places that appeal to you. Again, this is sightseeing, and it's free.
We start our tour in Mount Eliza. From the Nepean Highway, turn right into Old Mornington Road and after a short distance turn right again into Marathon Drive. Follow down Marathon drive until the road takes a left turn. Straight in front of you is Marathon House, the most beautiful house and gardens we feel we have ever seen.
The history of Marathon House goes back to the 1840's although this house was not built until the early 1900's. It has had some very prominent owners. Please remember, this is a privately owned house so do not enter the property and please respect the occupants privacy, thank you. At the end of Marathon Drive turn right on to Davey's Bay Road and drive to the end. There is a walk along the cliff top. If you turn to the right you will walk around to Davey's Bay. Turn to the left and you will come to Pelican Point Lookout and then on around to Freemans Road. Directly at the end of Davey's Bay Road are steps that take you down to Pelican Point. Keep an eye out for the Pelicans. They are so graceful when flying yet so clumsy when landing! On the day we were there it was extremely windy and the pelicans were having enormous fun gliding and soaring in the wind currents.
Okay, back in the car and drive up Davey's Bay Road and take the first right into Watts Parade. There are many beautiful houses along Watts Parade but perhaps the one of note is number 7. Called Rubra, it has lots of history dating back to 1886 and many well known owners like Sir Laurence Hartnett, the man behind the Holden Motor Car.
Turn right at the end of Watts Parade into Glen Shian Lane and drive to the end. Again there is a path that goes both ways. If you take the right path, there is a lookout and steps that will take you down to Canadian Bay. The left path takes you around to the Canadian Bay Club.
Drive back up Glen Shian Lane and turn right onto Old Mornington Road. Turn right at the round-a-bout and left at the traffic lights into Canadian Bay Road. At the traffic lights on the corner of Nepean Highway, turn right. Follow the Nepean Highway for a short distance and turn right onto Kunyung Road.
At number 60 Kunyung Road is the sensational gatehouse to the property Moondah. This property was originally owned by James Grice in the 1880's. His father Richard Grice owned Manyung, later purchased by Sir Norman Myer, which is located between Moondah and what is now Morning Star Estate - originally Sunnyside. Sir Reginald Ansett purchased Moondah in 1947 and converted the mansion into a high class hotel. This is now owned by the Mount Eliza School of Business.
Continue down Kunyung Road to Earimil Drive. At number 8 you will find a delightful cottage built in 1854 by a Welsh sea captain, Edward Lintott. At the north end of Earimil Drive is a walking track that takes you to Ranelagh Beach. At the south end are some steps and a walking track that will take you down to Moondah Beach.
From here we head back up Kunyung Road to the Nepean Highway and turn right. Travel along the highway for a short distance and turn right into Sunnyside Road. Half way down Sunnyside Road is Morning Star Estate. Here you will find perfectly manicured gardens and an awesome house built in 1867 for Francis Gillett. A fee is charged to view the gardens.
Continue down Sunnyside Road and you will end up at Sunnyside Beach which is popular with families. If you are looking for a nude bathing experience, this beach is not for you. North Sunnyside Beach, around the rocky point and past the old concrete bunker, is the only clothing optional beach around Port Philip Bay.
We continued on to the Caraar walk, Mornington from here.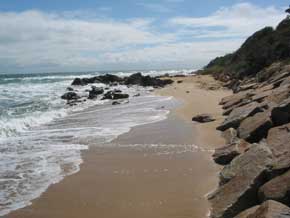 Sunnyside Beach - with its rocky shoreline.