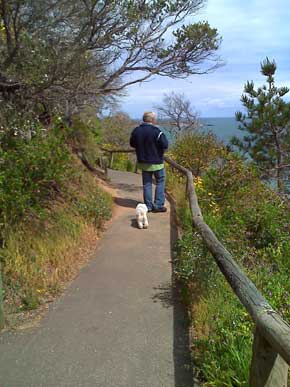 Jak and I enjoying our stroll down Caraar Creek
walk. The views are quite stunning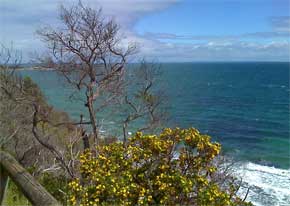 Another view from Caraar Creek Walk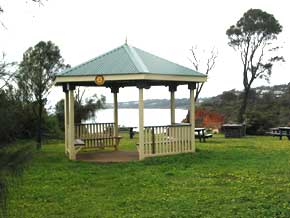 The car park at Shire Beach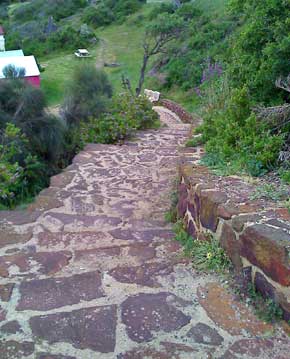 Steps leading down to Shire Beach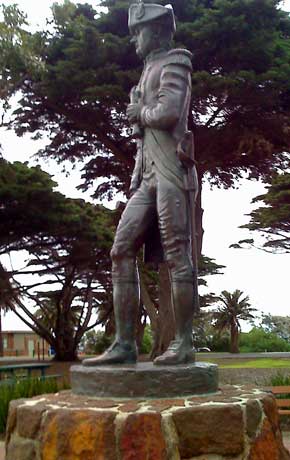 Mathew Flinders statue in Mornington Park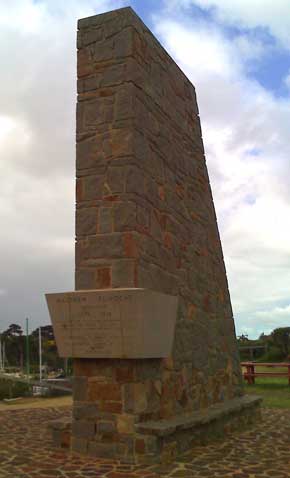 Mathew Flinders obelisk at Schnapper Point

This is a continuation of out Mount Eliza sightseeing trip. From Sunnyside Beach we travelled back up Sunnyside Road to the Nepean Highway. Turn right and continue along to the intersection of Bungower Road and Shandon Street, just past the Mornington Secondary College. Turn right into Shandon Street and turn immediately right again into Tallis Drive. Follow Tallis Drive to the round-a-bout and turn right onto Caraar Creek Lane. Follow this to the end and park on the side of the road (make sure you are not blocking any driveways).
At the end of Caraar Creek Lane is a paved walking track that takes you to a wonderful lookout and on to Mills Beach. We went to the lookout and a little further but not all the way to Mills Beach. Beware, it is easy walking but a steep climb back to your car!
Back in the car, (after catching your breath!) take the first right into Kalimna Drive. At number 44 is Beleura House, built by James Butchard in 1863 and owned by many well known identities including Sir George and Lady Tallis. You won't see this from the street, unfortunately. It is open to the public, but only by appointment on specific days for a guided tour. As yet we haven't been there. Some of the houses around Kalimna Drive are really beautiful. At the end, turn right on to the Esplanade. Follow this for a short distance to the Mills Beach lookout on the right.
A little further along the Esplanade is a car park for Mills Beach. To the left of the car park are some steps and a track with a few lookouts with awesome views of Mornington Pier and Schnapper Point. Following the track will take you to Shire Beach. A little further along the Esplanade before the round-a-bout is the car park for Shire Beach. From here you can look at the Mornington Football Club Memorial (at the round-a-bout), cross the road to Mornington Park where there is a statue of Mathew Flinders as well as memorials for war heroes from the first and second world wars or walk down the steps to Shire Beach.
Across the road from Mornington Park is the Old Mornington Post Office - now a museum, that is only open Sundays or public holidays 2pm-5pm. From December to April and school holidays it is open Wednesdays 11am-3pm. Entry is by gold coin donation. Next to this is the old State Bank. This is where out self guided walking tour of Mornington starts.
When we first did this "self guided" walk the brochure we used as our guide had 17 different sites included, but for some strange reason the latest brochure has now been downsized to 12 sites! However, we have devised our own self guided walk of Mornington that has 25 significant historical sites including Churches, hotels, stores and public buildings along with information about each site. Check out Mornington Historical Walk for detailed information. The walk will take about 1 hour, longer if you are with someone like DJ who wants to look in every shop! Take your time and have some lunch or a coffee at one of the many eateries along the way. Mornington really is an enjoyable place to visit.
Next we did the "Discoverers Walk". I first read about this in a photo copy of a brochure put out by the Mornington Peninsula Shire Council. It said and I quote "the walk consists of 9 plaques placed at intervals from somewhere near where Matthew Flinders landed at Birdrock and walked along the cliff top towards Schnapper Point. The walk is located between Nunns Walk, Birdrock Avenue Mount Martha and the Matthew Flinders Memorial at Mornington Park."
When I consulted my map, I was totally confused! It turns out that Nunns walk is about 5 kilometers from Birdrock Avenue! I get so annoyed when these tourist brochures get the information so wrong. As a visitor to these areas, how can you be expected to see the wonderful sights when organisations can't even get their information correct. So, now, we have actually done the walk, I can give you the correct details of where it starts and finishes.
To get to the start of the "Discoverers Walk" drive down the Esplanade towards Mount Martha. Birdrock Avenue is approximately 6 kilometers from Mornington Park. There are 2 small car parks on your right in the vicinity of Birdrock Avenue. The walk starts at this spot and you walk back towards Mornington. The walk ends at Mornington Park. Some of the scenery and lookouts are stunning. If you take your time and wonder down to some of the beaches you will find some awesome tranquil hideaways that most visitors (and locals) miss. This is a magnificent part of Mornington Peninsula.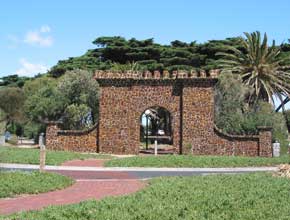 One of the fabulous entries to Mornington Park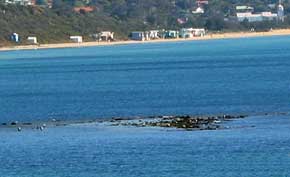 Birdrock where Matthew Flinders first landed in 1802
and walked along the cliff top to Schnapper Point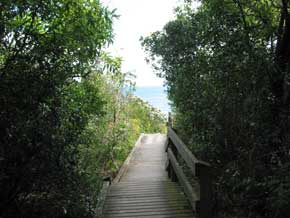 The boardwalk and steps leading down to beautiful Birdrock Beach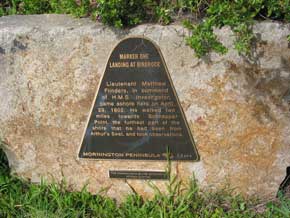 The first Discoverers Walk marker on the track near Birdrock Beach