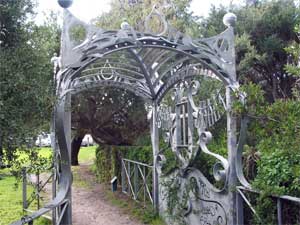 Seaford Foreshore Reserve - Wrought iron "Folly"
in remembrance of "The Hermit" John Maddox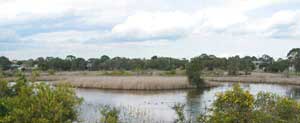 Seaford Wetlands - fill of amazing bird life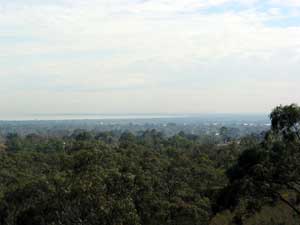 View looking towards Melbourne from the Trig Lookout at The Pines Flora and Fauna Reserve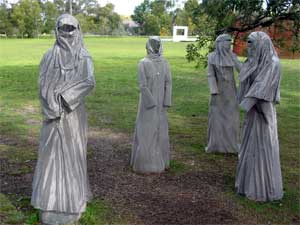 McClelland Sculpture Park " Dwelling amongst
others" by Anna Eggart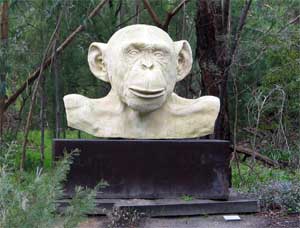 McClelland Sculpture Park "White Ape" by
Lisa Roet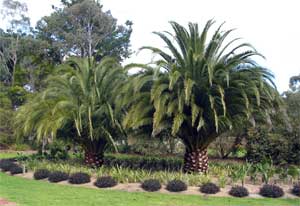 Beautiful palm trees at the Elisabeth
Murdoch Arboretum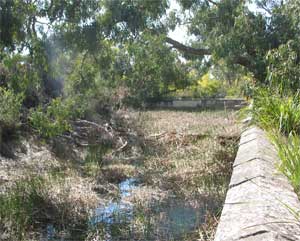 Remains of the old reservoir built in 1889 at the Langwarrin Flora & Fauna Reserve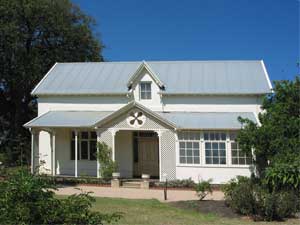 Ballam House - built in 1854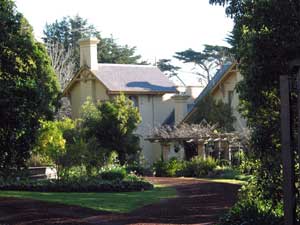 Yamala - built in the 1850's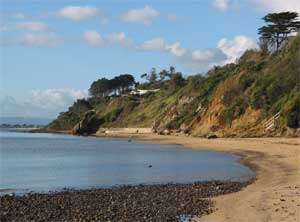 The natural beauty of Daveys Bay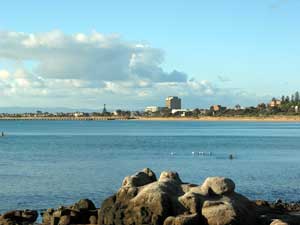 View of Frankston from the car park at Oliver's Hill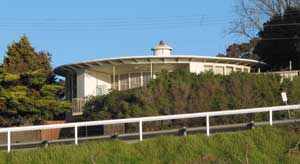 Henty House, also known as the Round House
built in 1953 at Oliver's Hill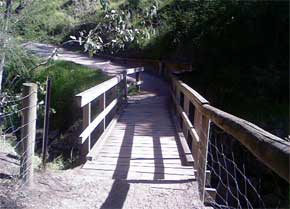 Sweetwater Reserve opposite Oliver's Hill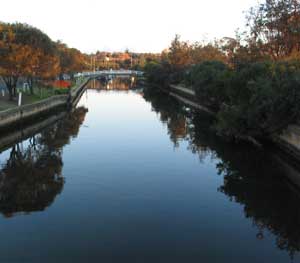 Kananook Creek at Frankston Foreshore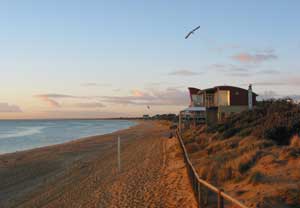 The golden sands of Frankston Beach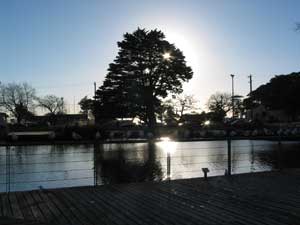 Beauty Park Frankston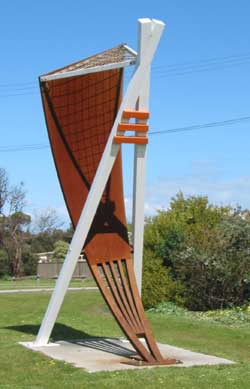 Imposing Road Side Marker at
Mile Bridge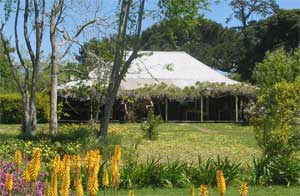 Sage Cottage - beautiful gardens
After looking through many tourist leaflets and brochures about Frankston plus doing many hours of research on the internet, we ended up doing our own tour of the places that appeared to be of general interest without spending much money. Many (or most) of the tourist brochures only acknowledge the places that pay for advertising. Quite honestly this is not offering a good service to the tourist ( that's why we built this website ! ). We like to find great places of historical and general interest that are not expensive to visit.
We started at the Seaford Foreshore and Pier which is on the Nepean Highway about 4 kilometers north of Frankston, opposite Station Street, Seaford. There is a small car park, toilets and picnic area. Walk out to the pier for some awesome 270 degree views from the Dandenong Ranges to the Melbourne skyline, the You Yang Ranges (three pointed hills across the water), the Bellarine Peninsula and Frankston. We have been told the fishing is pretty good off the end of the pier.
Walking back to the car park, if you head to the picnic area you will see a wrought iron "Folly". This is in memory of "The Hermit" John Maddox who live here for about 20 years back in the early 1900's. This is also part of a 4km walk, one of the "Three Waters Walks, heading towards Frankston through the Seaford Foreshore Reserve.
Next we headed for the Seaford Wetlands. We drove across the Nepean Highway and along Station Street. Cross over the railway and turn right into Railway Parade and then take the first left into McRae Street. Follow this around to Austin Street which is the first on the left. About half way down Austin street on the left are the Seaford Wetlands. There is no car park, so you need to park on the side of the road. The Seaford Wetlands is a large 300 hectare nature reserve. The wetlands is home to a wide variety of bird life, with around 130 different species having been observed here in recent years. The more common species include ducks, swans, rails and pelicans. A number of rare migratory bird species also visit the wetlands between October and March. These come from Northern Asia and are protected by treaties between the Australian Government and the governments of Japan and China. There is a raised shelter where you can look out across the lakes. All we saw on our visit were a few ducks, but that's okay because I love ducks! As part of the Three Waters Walk, there is a paved walking/cycling track around part of the wetlands and there are plans to extend this to completely surround them.
From here we headed to The Pines Flora and Fauna Reserve. Head back to Railway Parade and turn left and turn left at the end on to Seaford Road. follow this for a couple of kilometers until you come to the Frankston Dandenong Road. This is a big intersection with shops on the left and a MacDonald's straight ahead. Turn right on to Frankston Dandenong Road and turn left into Excelsior Drive (first set of lights). Drive to the end of Excelsior Drive and straight into The Pines car park.
There are lots of walking tracks here, but we wanted to go to the Trig lookout to take some photos. We studied the map at the information shelter, but it didn't help much, so we started on the boardwalk and followed that. About 3 minutes later we were back in the car park! Hmm, that didn't work! Next we followed the boardwalk for a short distance and took a wide sandy track that branched to the left and up the hill. After about 20 meters we found a sign post that said we were on the Panorama Track. We followed this to the top of the hill and what a wonderful 360 degree view! Well worth the walk over the soft sandy track.
Back to the car and off to the McClelland Gallery and Sculpture Park. To get there, go back down Excelsior Drive and turn right onto Frankston Dandenong Road. At the Seaford road intersection turn right on to Ballarto Road. Follow that for a few kilometers until you come to McClelland Drive and turn right. Follow this for a few kilometers and the McClelland Gallery and Sculpture Park is on the left no far past the Skye Road round-a-bout.
I am not "into" art and sculptures but much to my surprise I found this a fascinating place! Di was in her element! We spent a couple of hours wandering around the grounds and taking lots of photos of the many interesting sculptures and features. It really is a fantastic place to visit. The gallery has some permanent artwork and also hosts various touring exhibitions. There is also a great little cafe with awesome views of the magnificent gardens. Well worth the trip!
Next on our list to visit was the Dame Elisabeth Murdoch Arboretum. I had no idea what an arboretum was (yeah, I'm an uneducated bloke!) so on the drive there I asked my university educated navigator. Di's response was "isn't it some place where plants are?". Well heck, I don't know I was asking you! Anyway, in the quest to improve my own knowledge I have looked up my Collins English Dictionary (pocket edition) which I have beside my computer for times like this and guess what - it's not there! Okay, next step is dictionary.com. Well, it tells me it's " a plot of land on which many different trees or shrubs are grown for study or display" or "a facility where trees and shrubs are cultivated for exhibition". So now I have that cleared up, it's on with the journey.
When you come out of the McClelland Gallery turn left onto McClelland Drive. Go down there a short distance and turn left at the third street - Edward Street - and find the car park on the right a short distance along there. The Dame Elisabeth Murdoch Arboretum is only a small park so it won't take long to look around but there are some lovely trees and shrubs there and it's a nice place to have lunch, if you bought a picnic!
The Langwarrin Flora and Fauna Reserve was next on our list. I wanted to visit this as I love history and was fascinated when I read there were old remains of an army reserve and prisoner of war camp that was once here during World War 1.
To get there, drive back along Edward Street and turn left onto McClelland Drive. Continue on over the Cranbourne Frankston Road and it is on the left past the Telstra entrance. There is a car park which can be quite muddy with deep puddles after rain! We had been here before but it had been raining and neither of us fancied walking around trying to avoid the puddles and mud. This time it was a beautiful day so off we went in search of the old fountain remains, the reservoir remains and the old rifle range target practice area.
Well, we got two out of three! The old fountain remains is easy to find. Just take the Centre Track a very short distance and on the right is a "picnic" area. follow that path and the fountain is virtually straight in front of you. Go back out to Centre Track and follow it up to Reservoir Tack. Follow this track for a few minutes and you come across the old reservoir. All that remains is the main wall, but it would have been impressive back in 1890! We than went on to find the old rifle range target practice area, but had no joy. After wandering the different tracks for an hour or more, we decided that it was overgrown and we couldn't get to it. However, in all fairness, there is work being done in this reserve with new sign posts recently erected and the tracks being cleared, so hopefully soon the old rifle range will be accessible. Still, I was happy that we found what we did! Oh yeah, watch out for snakes!
Next was a small reserve called Bunarong Park. This is one of the highest parts of Frankston so I wanted to see what the view was like. To get there, turn right back onto McClelland Drive and turn left onto the Cranbourne Frankston Road. As you go down there, Karingal Hub Shopping Centre is on the right, Just past that is Ballam Park. Ballam Park has one of the original homesteads of Frankston where tours can be arranged on Sundays for a fee. There is also a teahouse open on Sundays.
On the left opposite Ballam Park is Wattle Tree Lane. Turn left and drive about 1km up Wattle Tree Lane and where it turns to the right, go straight ahead into a small car park. There are no signs to tell you it's Bunarong Park, so it was a bit of guess work, however, once out of the car we saw a small information shelter with some faded sheets of paper telling us it was our destination. Off we go up the track to the top of the hill. From here there is a great view of Frankston and Port Phillip Bay.
We planned our next stop to be the "Old School House Museum" which is on the property of Frankston Primary School in Davey Street. When we got there, the sign said to contact the school office. We rang them and they told us the museum was open by appointment only and we were given the phone number for the curator. I rang the number and was told by the curators husband if we wanted to see inside the museum I would have to give them at least 2 days notice (and even that may not suit them!) and we would need special visitors passes to get on the school grounds. Unfortunately, this was all too hard for us! I guess, what annoys me more than anything is that in all the brochures have read about Frankston, never once did it tell me to arrange anything in advance to see this little museum. As a tourist, I find this very frustrating. We will make arrangements at some stage to go back and visit the "Old School House Museum" and place some photos here, so you won't have to go through the hassle of arranging to visit there! If you do want to arrange your own visit, please call (03) 97833769 to get the curators phone number.
To get here, I should give you directions as our next stop continues from this point! Go back down Wattle Tree Lane and turn left onto Cranbourne Frankston Road and continue to the end. Turn right onto Davey Street and the Old School House Museum is immediately on the left. To continue our drive, follow Davey Street to the Nepean Highway and turn left. We are now heading to Daveys Bay, a beautiful little secluded beach with lots of history. Continue along the Nepean Highway up Oliver's Hill and look out for an imposing stone entry way on the right with a gatehouse cottage. This is Yamala Drive. If you reach Humphries Road, you have gone too far! Go down Yamala Drive (look out for Yamala House on the right - it's awesome!) to Gulls Way and turn right. Park at the end of Gulls Way. You will see the steps going down to Daveys Bay, but first look at the plaques on the decorative wall showing the different houses in the area. Many are of architectural significance and it's worth a drive around Gulls Ways on the way out to look at them.
Climb down the steps to Daveys Bay. On the left is Kackeraboite Creek. Further up the beach to the left is the Daveys Bay Yacht Club. The peace and serenity at Daveys Bay is amazing!
After climbing the stairs and driving around Gulls Way head back towards Frankston on the Nepean Highway. On the left at the top of Oliver's Hill is a lookout where you can park. The views from here are awesome! If you are there at sunset it can be totally mind blowing! Drive to the bottom of Oliver's Hill and park in the large car park on the left. From here you can walk around the sea wall that was built in 1950 to help stop the erosion of Oliver's Hill. Across the road from the car park is "Henty House", more commonly known as the "Round House", designed by architect Roy Grounds in 1953.
Also across the Nepean Highway from the car park is Liddesdale Ave. A short distance up there is the entrance to Sweetwater Reserve. This is a very pleasant walk up a hill following Sweetwater Creek.
Back in the car for a rest and a short drive along the Nepean Highway to the Frankston Foreshore and Pier. Here is where you will find the Visitors Information Centre, a restaurant, toilets and a boardwalk along the waterfront. You can also walk along Kananook Creek for a short distance. I read somewhere that there is a monument to show where Charles Grimes first landed here in 1803, but this has been elusive to us so far! Have a wander around here and look out for the small bronze seagull sculptures and boxes made by artist Anne Ross. Also Anna Minardo's mosaic "Oasis" at the start of the pier. On the pier is artist Louise Lavarack's sculptural installation "Sight Line". The light effects and semaphore flags of this kinetic piece are triggered by tidal surges and wind. (Hey, I just copied those words from the brochure "Coastal Arts Discovery Trail Frankston, but it sounds good)
Back in the car we turn left onto the Nepean Highway and turn right at Davey Street. Go up Davey Street to Young Street and turn right. A short distance down Young Street is Beauty Park. This was the venue for the first Scout Jamboree in 1934. It was once a swamp but has been turned into a beautiful park and lake. At one time I believe there was an animal zoo here.
Follow Young Street further until you reach Williams Street and turn left. At the first round-a-bout on the left is the George Pentland Botanical Gardens. This was the final stop on our drive around Frankston. It is a beautiful place to wonder around and take in the gardens. They are quite magnificent.
There are other places to visit that we didn't include in our drive around. Like the "imposing road side" marker at the northern end of Long Island where Kananook Creek crosses the Nepean Highway at Mile bridge. According to Frankston Cities brochure "Coastal Arts Discovery Trail Frankston" this sculpture was "inspired by the beach side experiences of generations of local children", but the plaque at the sculpture says "The artist was inspired by the icons of the seaside and marine activity". Well, if they can't get their story straight how can mere mortals like me understand this "thing"! Perhaps someone can enlighten me on this one! It just looks like a rusty piece of metal and 2 large chopsticks to me!
Sage Cottage is another historic place we left out. However, we have since been there and had a lovely lunch and stroll around the farm. This is located at 85 Sage Road, Baxter on the corner of Moorooduc Highway. It is open Fridays and Saturdays 10-3. This is a non profit organisation helping under privileged children that is run by Menzies Inc. The cottage and small farm are quite beautiful with a lovely lake and gardens plus lots of bird life. One can sit back, relax and enjoy a Devonshire Tea or light lunch under the veranda of the old cottage for a very reasonable cost. Well worth a visit.
Two reserves we missed were Casurina and Paratea Flora and Fauna Reserve. We drove past both but there appeared to be no significant reason to spend time at either. It is fantastic that the Frankston Council do have these reserves for the locals to enjoy, however.
So, there you have our drive around Frankston. It's a wonderful way to spend a day and spend a cent! We had a busy day, but it was lot's of fun! This is a wonderful area to explore, so please take in all the lovely sights and enjoy Frankston.