Fascinating Historical Facts - Mornington Peninsula
The Pines Flora and Fauna Reserve - Frankston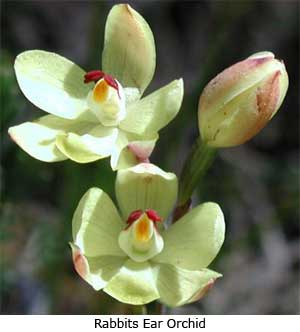 The Pines Flora and Fauna Reserve, is a 220 hectare reserve with over 200 species of plants including Silky tea trees, Wedding Bush, Pea Flower plants, Swamp Sheoaks and over 30 different native Orchids. The native orchids, many of which are quite rare, are a highlight of the wildflowers that bloom in spring. Rabbit Ears Orchid, Dwarf Greenhood Orchid and Spider Orchid are some of the flowers to be found.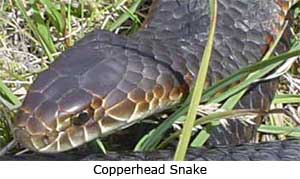 The reserve is a very important area for native fauna, particularly small mammals, reptiles and amphibians. Southern Brown Bandicoots, Swamp Wallabies, echidnas and Brush tail and Ringtail Possums are all to be found in the reserve along with Eastern Brown, Tiger and Copperhead snakes.
Over 100 different bird species have been recorded including honey eaters, water birds, birds of prey and parrots. Some unusual species have been recorded including the Painted Button Quail, Brush Bronze wing, Lathams Snipe and Swift Parrot.
The Bunurong Aboriginal people used the area as a source of fresh water from the springs. In the 1920's it was planned to plant the whole area between Ballarto Road, Dandenong Frankston Road, McClelland Drive and Skye Road with pine trees. This planting program was started but never completed with just a small area being planted.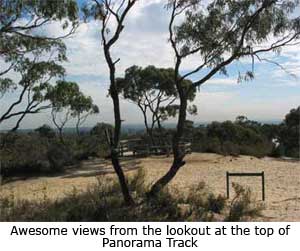 A proposal in the 1970's to sand mine the remaining bushland was met with community uproar and the Eureka flag was raised on Trig Point (the site from which the Frankston area was originally surveyed) and the area claimed for the people of Frankston. Community action also helped prevent the area being subdivided for housing in 1989 and The Pines Flora and Fauna Reserve is now zoned as public open space.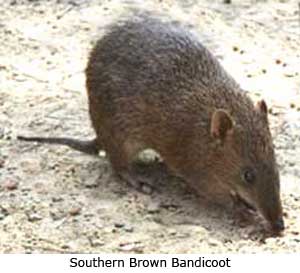 The reserve is ideal for recreation activities such as photography and walking. A network of tracks and boardwalks allows visitors to walk to most parts of the reserve. The Heathland Boardwalk is a short walk that takes you from the information shelter in a circle back to the car park. To get to the Trig point viewing area where there are incredible views of the reserve, Port Phillip Bay and the Dandenong Ranges follow the Panorama Track up the hill. It takes about 40 minutes for the round trip. Don't forget to take water with you. In areas where dogs are permitted they must be on a leash at all times.
The Pines Flora and Fauna Reserve is located at the end of Excelsior Drive, off the Dandenong-Frankston Road at Seaford.