Fascinating Historical Facts - Mornington Peninsula
Arthur's Seat Tower, Arthur's Seat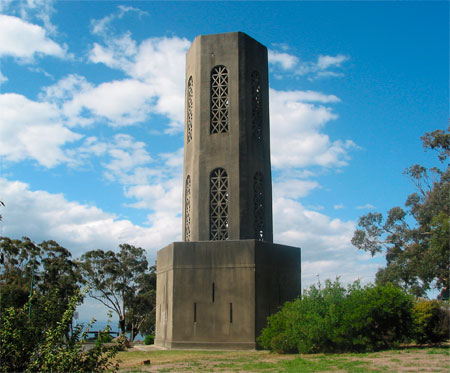 The tower at the peak of Arthur's Seat
Every time we visit Arthur's Seat, I find myself drawn to this tower. For some reason I find it fascinating, so I decided to do some research about it. So far, the information is a bit conflicting, but interesting (to me anyway!).
Originally, the first trig station was built on this site in 1853. This was replaced at some time by the Eastern Shore Light. The Eastern Shore Light was a timber lookout originally built at McCrae, at the base of Arthur's Seat in 1854. It was considered an integral part of the Port Phililp Bay navigation system before being replaced and moved to Arthur's Seat.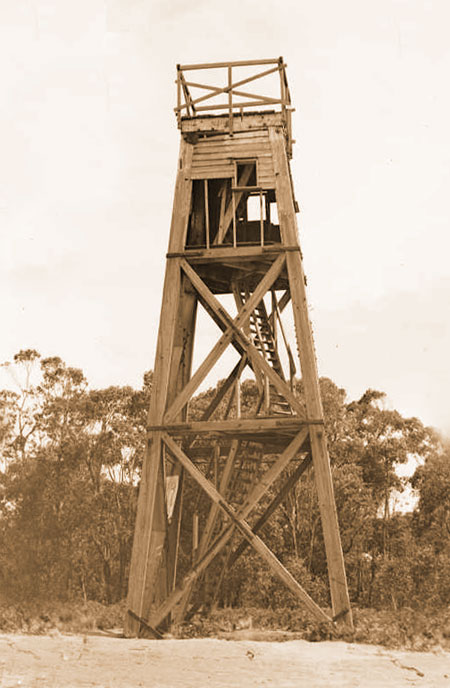 The Eastern Shore Light Tower
In 1934 the Arthur's Seat Tower was built replacing the Eastern Shore Light. The tower is unusual due to it's hexagonal shape. It is cement rendered and has narrow slot windows around the base. A stair case runs up the inside to the roof which up until recently was a viewing platform. Unfortunately today the tower is closed to the public.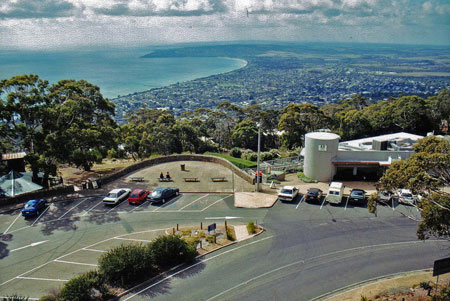 The incredible view from the top of the tower
According to the plaque on the front of the tower it was designed by G.W. Brown C.E. Shire Engineer for the Shire of Flinders. It was built under his supervision in 1934-5. However, in the Shire of Flinders Heritage Study of significant sites by consultant Graham Butler, it states the tower was designed by Howard Lawson, an architect and land developer. The Lawson family and their company Beverley Hills Co of South Yarra were responsible for much of the development of Arthur's Seat including building the 'Garden of the Moons', now the hotel known as 'Arthur's', with it's sensational panoramic views. The tower was apparently built for the Centenary of Victoria in 1934.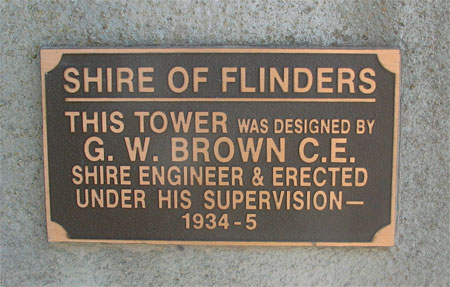 Plaque on the front of the tower
If you visit Mornington Peninsula, it is well worth the drive up to Arthur's Seat for the views. They are possibly the best around Melbourne.