Historical Facts - Mornington Peninsula
Point Nepean Quarantine Station - Point Nepean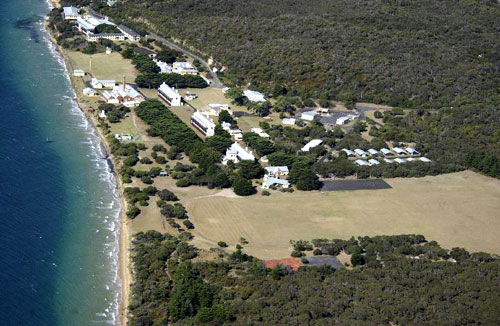 Point Nepean Quarantine Station
In the early 1850's the government established a quarantine station at Point Nepean. Before the original building was completed an emigrant ship arrived with many passengers affected by yellow fever. She had had a frightful journey and the crew and passengers were in a sorry state.
The ship was the 'Ticonderga' that had left Birkenhead England eighty days before arriving at Point Nepean. She had eight hundred and eleven people on board when she sailed. Because of the lack of the most necessary amenities and over crowding, fever developed amongst the passengers, with the result that there were 96 deaths during the voyage.
On her arrival at portsea on november 6th 1852, the survivors were quarantined, their numbers being so great that tents had to be erected to accommodate the overflow from the existing buildings. Here 82 of the ships passengers died. Deaths were so numerous and sudden that coffins were unobtainable, and burials had to take place without them.
Labour to dig the graves was also unprocurable, and to facilitate matters the bodies were placed vertical in recesses in the cliff face and the overhanging bank was then broken away, the resulting landslide burying them.
Many of the present building of the Point Nepean Quarantine Station were begun in 1856. Today, this area is a national park where visitors can visit the Point Nepean Fort and the Quarantine Station Museum.