Discover the Mornington Peninsula with Us
Kings Fall Circuit Walk - Arthurs Seat
This is a beautiful pleasant, picturesque walk suitable for most levels of walker. The Kings Falls Circuit walk starts at the car park on Waterfall Gully Road which is a dirt road. Waterfall Gully Road is located about 1.5kms along Purves Road on the right, from Arthurs Seat Road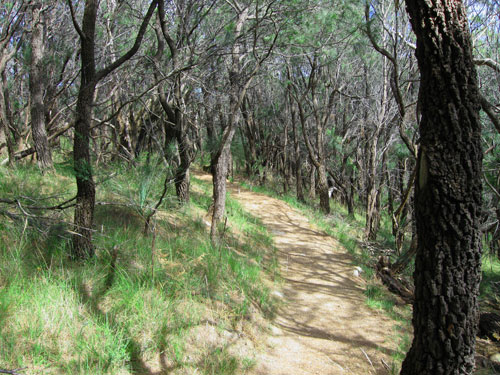 The track following through the trees
We were amazed by the vegetation changes from shea oaks and scrub to damp humid gully's with an abundance of native ferns to open grassland. Quite amazing for such a short walk. Initially the walk is along a dirt track but this changes in some places to a boardwalk with steps making it easy on the steeper sections.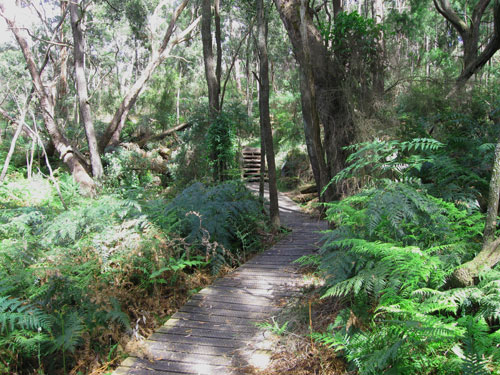 Part of the boardwalk and steps making it easy to negotiate the steeper
sections of the walk
The native plant life in this gully is fabulous. There are masses of ferns including the Scrambling Coral Fern. This is a beautiful fern with straggly fronds that constantly fork creating a thicket of thick undergrowth.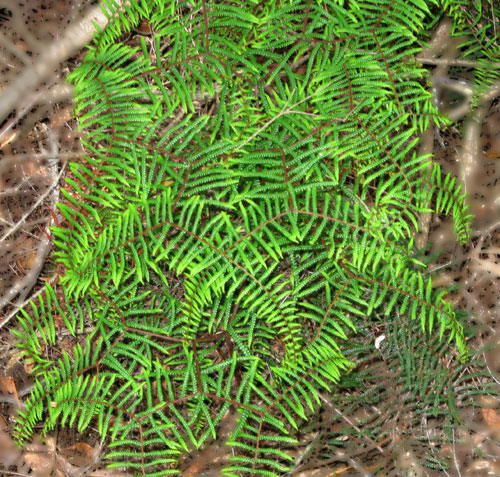 Scrambling Coral Fern
Along the way we saw quite a few Grass Trees. These are an amazing Australian Native plant that can grow for up to 600 years. One example we saw was somewhere between 100-200 years old. These trees grow about 2cm per year, although the spear like flower they produce can grow at the rate of 3cm per day to a height of up to 3 meters. These plants offer great protection for lizards and other small creates.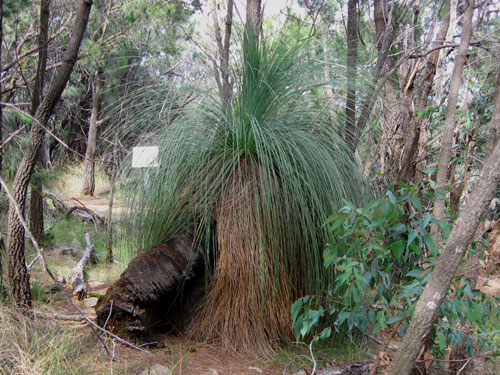 An Australian Native Grass Tree between 100-200 years old
About 250 meters along the path is a lookout with a view across the valley where the waterfall is visible. Unfortunately due to extreme drought over the last couple of years the waterfall appears to have dried up, but I am sure with a little rain it will be a beautiful gushing cascade of water again.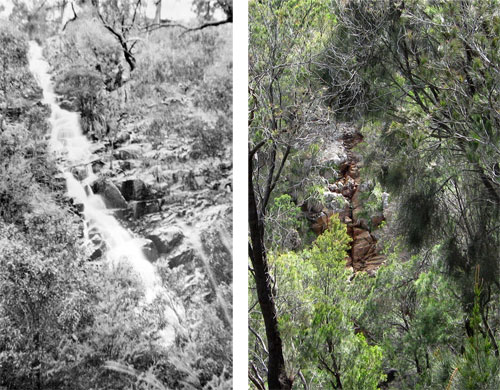 The old photo shows Kings Waterfall in the early 1940s. Today (January 2009) it
has dried up due to our severe drought.
There is a lookout at the waterfall with a view over the valley that is very picturesque. From this point you can either continue on the circuit walk or branch off and take the 4km walk to Seawinds Gardens. Some of the views over Port Philip Bay from this walk are sensational.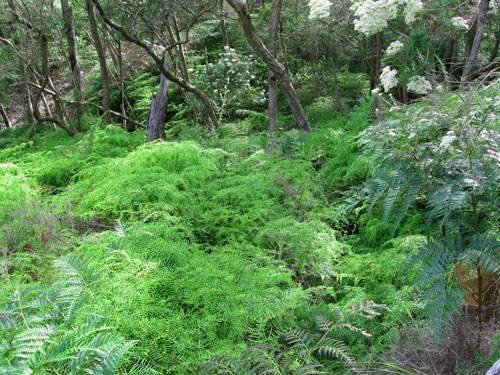 An amazing array of Native Ferns growing in the damp valley of the walk
Even though we were disappointed we didn't see Kings Waterfall cascading water down the granite rocks it was still a very pleasant walk with some lovely untouched native scenery. Take your time and explore this wonderful little patch of nature, you won't be disappointed.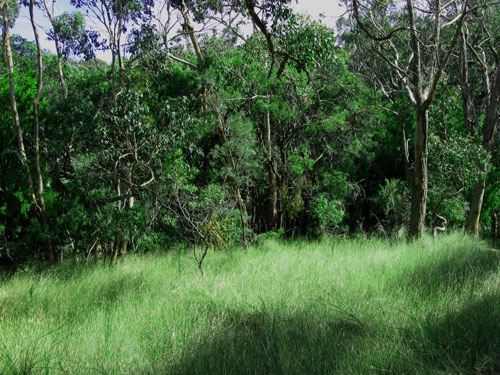 The vegetation varies dramatically over this short walk from scrub to valleys of
ferns to wide open grassland